Microsoft Dynamics 365 CRM
Empower your business with Microsoft's cutting-edge CRM solutions!
Microsoft dynamics 365 customer relationship management is a perfect package for the business to improve customer experiences. It is one such enticing Solution that businesses could not resist if they look to revamp their relationships and implement it for the business growth. Microsoft CRM encompasses more than customer management in a single package!
Pay attention to what experts have to say on CRM
Dynamics 365 brings CRM with four apps integration, namely Dynamics 365 for sales, Dynamics 365 for Field Service, Dynamics 365 Customer Service, and Dynamics 365 for Project Service Automation. Whether it is a completely new implementation or upgrading the existing solutions, JRS Info Solutions, a Microsoft partner, offers record customer interactions and aid to maximise revenue potential. At JRS Info Solutions, we have world-class integrated CRM solutions and implementation of which business will be benefited 360 degrees. But are you prepared to get the most out of this opportunity?
CRM Solutions that let sellers connect to their potential customer
With Microsoft CRM and ERP, products came under Dynamics 365; what makes it more attractive is its seamless integration with products like Outlook, Office, etc. For the businesses who seek a single platform to handle customer data, attract more potential customers, and keep them throughout the operations, Dynamics CRM is what they need.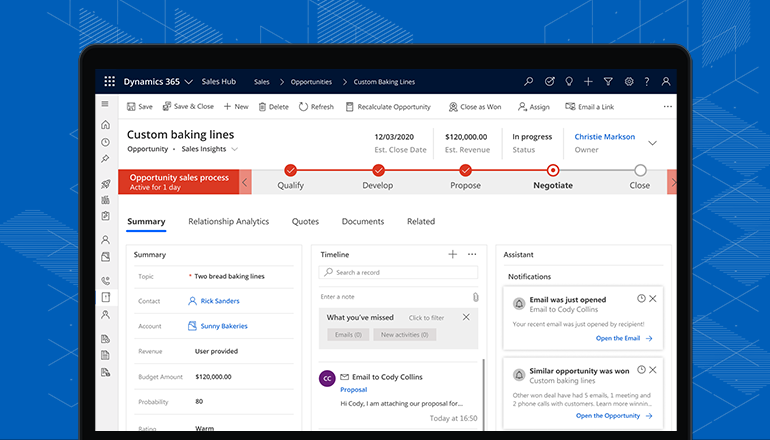 CRM benefits both business and customers; let us look at how:
→ Real-time customer information enables the team to create personalized customer experiences.
→ Businesses can prioritize those opportunities to build exceptional trust and brand loyalty.
→ It enhances communication between the two and provides a new perspective for sales and service offers.
→ With the help of consolidated information, employees don't have to look at different sheets and thus improving searchability and follow-up time.
On the other hand, it is a win-win situation for customers as Dynamics 365 improves loyalty.
→ Thanks to improved communication, customers can interact with the company from anywhere, on any device.
→ The customer remained more informed and empowered in making decisions.
A happy and satisfied customer always propels a business to the next level. But great relationships, on the other hand, do not happen overnight. To build a strong relationship with the customer, it must establish trust, nurture at every touch point, sustain loyalty, and proceed accurately. But CRM solutions from JRS Dynamics Info Solutions can change the game for businesses.
Stay on the top and never miss any opportunity with Dynamics 365 Sales!
As a Microsoft partner, the JRS Info solution brings unmatchable services for Dynamics 365 sales. If the sellers can manage customers better, then it expedites the service and improves customer satisfaction, and at some point, brand loyalty shines in the marketplace. Moreover, by knowing about real-time insights into customer sentiments, the business can guide sales professionals accordingly. Learn how our expert team involvement can transform your business activities.
→ Connect sellers and customers under one roof.
→ Keep and manage information on sales and marketing in one place.
→ Stay informed about the workflows, reminders, and notifications and keep track of everything from anywhere with the cloud platform.
→ Sync it with Microsoft products to digitalize the sales experience.
Choose today what your business demands
Here are options that you can opt from different offerings of Dynamics 365 Sales:
Sales Enterprise: With Dynamics 365 Sales Enterprise, begin by creating a lead, managing accounts, contacts, and their activities, tracking performances, forecasting sales, running marketing campaigns to promote business, collaborating with customers, and successfully closing the sales. The Dynamics 365 Sales Enterprise edition allows sellers to connect with their potential customers and build strong relationships.
→ Sales Premium: Dynamics 365 Sales Premium incorporates Enterprise along with AI-driven features. With this, a business gets a greater evaluation and cognitive capabilities for the customers and thus builds a strong relationship with them.
→ Relationship sales: The business has more personalized and valuable interaction with the customer with relationship sales by combining LinkedIn Sales Navigator.
→ Sales professional: Dynamics Microsoft 365 Sales Professional is similar to the Sales Hub app.
Dynamics 365 Customer Service
Uncover customer perspectives to offer tailored customer experiences
What your customer is looking for is one major worry of any business. However, not anymore because of what Dynamics 365 Customer Service deals with. Exceptional features like automated chatbots and self-service portals eliminate the need for agents who provide customer service. As a result, the implementation of Microsoft Dynamics Customer Service resolves issues more proactively and improves customer satisfaction. The Dynamics 365 customer service enables handling multiple sessions at a time raised from any channel at any time and interacting without losing context. Depending on what your business need, Dynamics 365 customer service can:
→ Use cases to keep track of client queries.
→ Keep track of all these interactions and share data in the knowledge base
→ Organize and manage interactions across several platforms, including voice.
→ Improve customer experience by using AI-driven embedded analytics.
→ Employ Microsoft Teams to collaborate with professionals.
→ Create and track service levels using SLA's
→ Use entitlements to define service terms.
→ Use reports and dashboards to keep track of performance and productivity.
→ Plan and create services
→ Take part in online talks
Improve, accelerate, and skyrocket your business with us today.
JRS Dynamics Info Solutions works consistently to achieve whatever is required on your journey to success. Thus, with JRS Dynamics Info Solutions, you get the hand of a trusted partner that you can hold confidently to climb the ladder of success. Our seasoned expert guidance will always be there, starting from purchasing, implementing, evaluating, and optimizing the business with Dynamics 365 CRM.
Let us create a success story together!