Create a data-driven culture with business intelligence for all.
Microsoft Power BI is a business intelligence platform that provides nontechnical business users with tools for aggregating, analyzing, visualizing and sharing data. Power BI's user interface is fairly intuitive for users familiar with Excel and its deep integration with other Microsoft products makes it a very versatile self-service tool that requires little upfront training.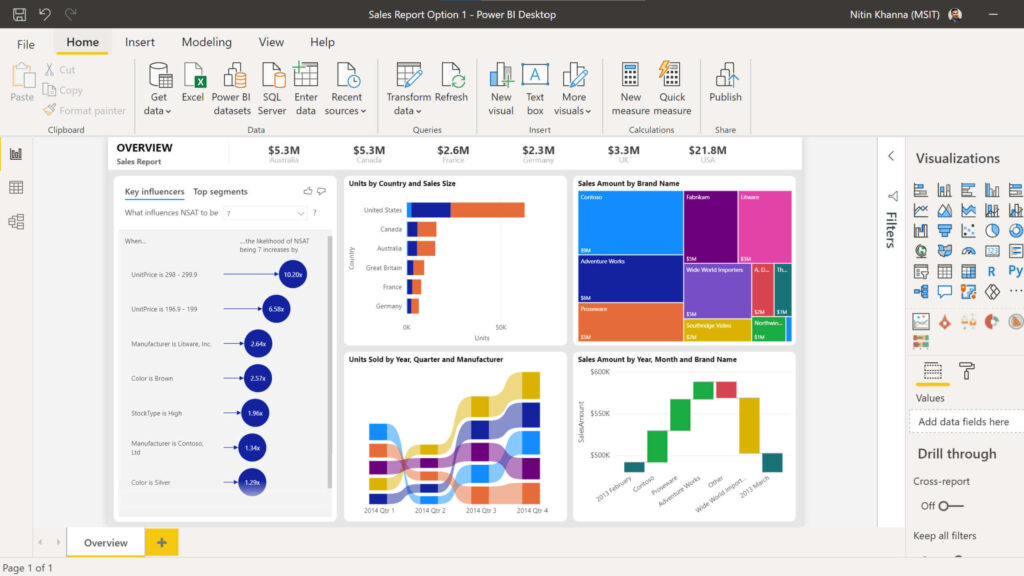 Key features of Power BI
→ Microsoft has added a number of data analytics features to Power BI since its inception, and continues to do so. Some of the most important features include:
→ Artificial Intelligence — Users can access image recognition and text analytics in Power BI, create machine learning models using automated machine learning capabilities and integrate with Azure Machine Learning.
→ Hybrid deployment support — This feature provides built-in connectors that allow Power BI tools to connect with a number of different data sources from Microsoft, Salesforce and other vendors.
→ Quick Insights — This feature allows users to create subsets of data and automatically apply analytics to that information.
→ Common data model support — Power BI's support for the common data model allows the use of a standardized and extensible collection of data schemas (entities, attributes and relationships).
→ Cortana integration — This feature, which is especially popular on mobile devices, allows users to verbally query data using natural language and access results, using Cortana, Microsoft's digital assistant.
→ Customization — This feature allows developers to change the appearance of default visualization and reporting tools and import new tools into the platform.
→ APIs for integration — This feature provides developers with sample code and application performance interfaces (APIs) for embedding the Power BI dashboard in other software products.
→ Self-service data prep — Using Power Query, business analysts can ingest, transform, integrate and enrich big data into the Power BI web service. Ingested data can be shared across multiple Power BI models, reports and dashboards.
→ Modeling view — This allows users to divide complex data models by subject area into separate diagrams, multiselect objects and set common properties, view and modify properties in the properties pane, and set display folders for simpler consumption of complex data models.
Power BI Services to Back you up.
→ Power BI Integration
Our Power BI experts design, build, and deploy Power BI to make it a feature-packed tool for your business needs that delivers value for your teams from first day itself.
→ Power BI Implementation
We use the results to prepare the implementation roadmap, set up and roll out Power BI in incremental and transparent stages. Our professionals start by delivering full-scale business analysis services together with technological assessment.
→ Power BI Development
We also offer services of integrating Power BI visualizations into your external portals to help you make your embedded Power BI analytics visible to your partners and vendors who don't use the platform.
→ Power BI Customization
We deliver full-scale report and dashboard customization to help you get a multi-dimensional perspective of all your data sets while staying within your branded environment.